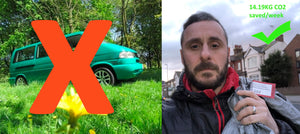 Taking Direct Action to Help the Environment
We have been trying to find ways to become more environmentally aware and leave a smaller carbon footprint.
The first of our initiatives was to cut out all plastic packaging which has already begun. All of our new orders come with no packaging so that has hopefully helped.
Our second initiative was to use the company van less. So we decided that all orders that we have to take to the Post Office or the parcel shop should be done on foot. This week we implemented that and are saving around 14.19 KG of CO2 a week.
We are also in talks with onetreeplanted.org to work out how many trees we need to plant a month to offset our footprint. We will also be offering this as an option for you to help out when you place an order. It only works out to about £0.78 to plant a tree so well worth having a look at! We will keep you posted.
---